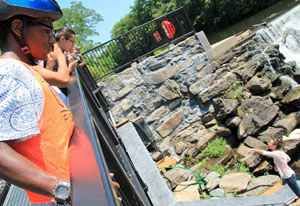 [alpine-phototile-for-picasa-and-google-plus src="user_album" uid="113585537416295493176″ ualb="6179526496431241729″ imgl="fancybox" style="gallery" row="8″ grwidth="800″ grheight="600″ size="110″ num="25″ shadow="1″ border="1″ highlight="1″ curve="1″ align="center" max="100″]
Bronx River Ride All-Stars
Word of the Day: a group of people living in the same place or having a particular characteristic in common.
Root – "communis" meaning common, public, general, shared by all or many
Starting with a lesson: We started the day asking each other what the word community means. We asked the All-Stars if everybody in the room was part of a single community and they all nodded in immediate affirmation. We decided that we were a community because we share the Cyclopedia experience together, and that's what makes us a community! We talked about how different communities can look differently as well. Marquis correctly pointed out that our community was in a nice cityscape. We described that other potential communities might have more trees and houses, or more industry and construction. We were looking forward to seeing many different communities that day on our way to the Bronx.
The day's final destination was Starlight Park. We talked to the All-Stars about how Starlight Park used to be a really great amusement park where people could go to free events and performances. Unfortunately, it eventually stopped being used and fell into disrepair. Lucky for us, the Bronx River Alliance (they all repeated "Bronx River Alliance") decided to clean it up so the community could use it again! Only the co-leaders have been there before, so we were all excited to go see what was there!
On the road: Once we got saddled up, we started in our familiar route down 103rd and 102nd to the East River and Ward's Island Bridge towards Randall's Island. We made it through the west side of Ward's Island, the pedestrian bridge, and up to the tip of Randall's Island! On the pedestrian bridge in between Randall's Island and Ward's Island, the All-Stars got an interesting challenge to put a funny looking flower/pinecone in their waters to brew some homemade tea! We are awaiting their diligent plant identification results to see if they can crack the code on what flower that was. At the tip of Randall's Island we crossed the Triborough Bridge to be greeted by a "Welcome to the Bronx" sign. It was a steep but fast journey up the ramps, and the cyclists wore the faces of cool and collected experienced ramp-climbers while working their legs!
In the South Bronx, Cappy stopped us and asked us if we could notice the different communities and how they lived. He asked us if it was a community they might like to live in or not. We traveled to Port Morris (a heavily industrialized area) and other areas with more trees and houses. The All-Stars sharply observed they would prefer not to live in a highly industrial area or next to the Triborough Bridge traffic! We went to the tip of Port Morris to go look at North Brother's Island and South Brother's Island. We also saw some planes landing in LaGuardia Airport. After awhile, the smell of nearby industrial sites became too overwhelming and the team unanimously voted to quickly bike away. Nonetheless, it was an interesting experience for all of us!
We climbed further and further north and were surprised and proud of ourselves when we finally stopped near the Bronx Zoo on 180th street. We had lunch right by a beautiful section of the Bronx River. We were met by passionate members of the Bronx River Alliance who described to us the different underwater communities in the Bronx River! The different waters separated by the dam made it difficult for the Herring to travel to freshwater in order to breed. She described how some scientists were trying to help them out with a "fish ladder" so they could travel upstream. The small glass-eels got a handy "eel-ladder" also! We got to stand on top of the fish ladder and look down into it to see if there were any fish. We were all excited to learn these fish and eels! The All-Stars ate their lunch and mingled in the quiet park. After we filled up our water bottles, reapplied sunscreen, and used the bathroom, we were ready to go again!
A short distance away was the beautiful Starlight Park and the entire team sat peacefully in the grass to rest our legs. After recharging, we re-energized with a Tae Kwon Do lesson with Katelynn. We did some team stretching, learned to count to ten in Korean, and learned our Front-Snap Kick! After concluding the lesson with team sit-ups, the All-Stars complimented and high-fived each other!
It was a breezy trip on the way home, and it seemed much shorter the second time around. We accomplished the "Bruckner's Sprint" for the second time too (which was making the entire stretch under the Bruckner Expressway without leaving any teammates behind). We all were tired but had fun screaming "Charge!" the entire time. We must have seemed very intimidating as a biker gang of Cyclopedians! We quickly made it back around the west side of Randall's and Ward's Island and across the Ward's Island Bridge.
The All-Stars did a great job that day, and we are so proud of how much they can handle and accomplish on the bike! Each and every one of them has improved so much!
Participants
Yalo Morales
Christian Acosta
Marquis Ortiz
Malaysia Lyons
Daniel Wheeler
Selina Jiang
Celine Rosario
Co-Leaders:
Cappy Collins, Justin Downs, Jude Appiah, Georgia Bancheri, Alberto Rivera, Raven Lee, Stella Chong, Claire Castellano, Katelynn Pan, Katie Litman
Ride Statistics
Miles biked: 14.73 miles
Miles walked: 0.443 miles
Program time (hours): 6 hours
Ride time: 5.5 hours
Calories burned*: 820 biking (road cycling, low intensity) + 37 walking + 34 Taekwondo (aerobic cross-training) = 891 calories
Water Quality Monitoring Results
pH: 8
Nitrite/Nitrate: 1.0
Nitrite: 2
Hardness:425
Chlorine: 0
Lead: Negative
Pesticides: weakly positive
E.Coli: Present
*http://www.mapmywalk.com/improve/calorie_calculator/
Estimates based on 100lbs, 5′ 2″ ht, average between male and female.[/vc_column_text][/vc_column][/vc_row]