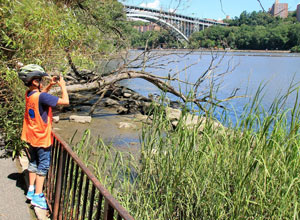 [alpine-phototile-for-picasa-and-google-plus src="user_album" uid="113585537416295493176″ ualb="6183355019023472049″ imgl="fancybox" style="gallery" row="8″ grwidth="800″ grheight="600″ size="110″ num="25″ shadow="1″ border="1″ highlight="1″ curve="1″ align="center" max="100″]
Word(s) of the Day:
• Exploration: the act of exploring and traveling to new places in order to learn about different people, culture, communities, etc.
Latin: ex form + plōrāre to cry out; probably orig. with reference to hunting cries
• Eureka: "I have found (it)!"
Greek: heureka
Intro Lesson:
Our Cyclopedians' trip began with a morning lesson about explorations from our co-leader, Jude. We learned that explorers travel to unfamiliar places in order to discover and to learn about new communities, cultures, and of course, hidden treasures! Cyclopedians realized that they have been explorers during all of our past bike trips. Today was no exception! Cyclopedians learned that they were about to embark on an exploration to Inwood Hill Park, located on the northern tip of Manhattan. Inwood Hill Park was home to Native Americans, the Lenape Indians during the 17th century. We were going to explore the Indian caves that were once inhabited by the Lenape. Jude also taught us a new word, "eureka", which explorers loudly shout when they find new discoveries. After Jude's wonderful lesson, excited Cyclopedians were ready to explore and shout some "eurekas" of their own!
Inwood Hill Park Ride:
With their acquired biking skills from practice and hard work, Cyclopedians were able to ride swiftly onto the busy Manhattan streets from P.S. 38. We cycled along the 1st Avenue bike lane, passing Yorkville and entering the East Harlem community. Our wonderful leader, Cappy led us westward onto 111th St. where we made a short visit to our friend, Pete at the Heavy Metal Bike Shop. As we continued, we made a another short stop to Chenchita's Angel Garden, a local community garden, to say a quick hello to our friend, Angela.
After the two brief visits, our Cyclopedia Crew rode fast and furiously (but, of course safely!) northward – passing by the Harriet Tubman Memorial (we said hi!) and the City College of New York. Today's trip was not merely biking riding; along the way, we play Telephone where we passed on secret messages like "Jude wears purple pants" (Cappy came up with that!).
Eventually, we arrived along the Harlem River Drive. Stopping there, Cyclopedians were able to see the Washington, Hamilton, and High Bridges from the distance. Cappy asked us if we could spot the lighthouse nearby. It was Luis who suddenly shouted, "Eureka!" The lighthouse was across the river, on top of the historical H.W. Wilson Company building. According to Cappy (who clearly knows his NYC landmarks), H.W. Wilson Company was a publishing company that kept records of books and information in the old days. The company was like an old version of present day's internet. The lighthouse was built on top of the building to represent the light for searching knowledge. Essentially, the lighthouse was the beacon of knowledge shining across NYC.
Cyclopedians advanced on along the Harlem River Drive, passing along the three bridges. We stopped for a bit at the Peter Jay Sharp Boathouse where our guest co-leader, Rob gave us a quick lesson about owls. Rob, who is an ornithologist (scientist who studies birds), taught us how to call for the Barred Owls using our hands. The call is said to resemble the phrase "Who cooks for you? Who cooks for you all?" All of us cupped and places our hands together in front of our mouths and cried out the phrase. Unfortunately, we were not able to call out a Barred Owl. We also learned how to identify poison ivy from our other guest co-leader, Ronnie. We learned that we should avoid plants with three leaves since poison ivys come in leaves of three. As people all say, "Leaves of three, leave them to be."
We took a quick water sampling from the salt-water tidal marsh before we were about to enter Inwood Hill Park. When we finally got to the park, we appreciated the beautiful nature while we sat down on the grass for lunch. At the park, we saw the Shorakkopoch Rock which legends says is where Peter Minuit bought Manhattan from the Indians for 6o Dutch guilders ($500 in today's currency; can you believe it?). We also decoded the secret code that was the hint for our secret treasure – "Huge Hollow Behind Some Sticks and Bark."
Later, we met another Luis who kindly gave us a tour of Inwood. Luis showed us where the Indian princess, Princess Naomi used to live as well as the reviving fresh water springs. We also got a quick lesson about the geography of Inwood and the history of the Lenape Indians. From there, we headed a bit further into Inwoods where we saw large boulders of rocks. Our excited Cyclopedians quickly climbed the rocks, which led us to the Indian Caves. We explored the caves with curiosity and spotted people who actually lived in the caves. We tried to search for the hidden treasure using our decoded hint, but with no luck, we were not able to find it.
Cyclopedians were not disheartened! They continued to search and search until Cappy told them that they had to head back to the school. Instead of going back the same route, Cappy led us back along the Westside Greenway where we were able to spot the Greek Pavilion, Pumpkin House, and the Little Red Lighthouse. Eureka! Eureka! Eureka! At the pavilion, Tae Kwon Do master, Katelynn taught us a new move – the roundhouse kick! Kya!
Our exhausted and seasoned explorers were finally back at the school after a long day of fun and exploration! Cyclopedians can hardly wait for their expedition to the Highline Bridge next week!
Participants:
Selina Jiang
Celine Rosario
Luis Delacruz
Tiffany Vargas
Daniel Wheeler
Co-Leaders:
Cappy Collins, Justin Downs, Jude Appiah, Georgia Bancheri, Stella Chong, Claire Castellano, Katelynn Pan, Katie Litman, Rob, and Ronnie
Ride Statistics
Miles biked: 16.0 miles
Miles walked: 0.2 miles
Program time (hours): 2.5 hours
Ride time: 4.5 hours
Calories burned*: __ biking (road cycling, low intensity) + __ walking + __ Taekwondo (aerobic cross-training) = __calories
Water Quality Monitoring Results
pH: 9
Nitrite/Nitrate: 0
Nitrite:0
Hardness:425
Chlorine: 0
Lead: Negative
Pesticides: Positive
E.Coli: Positive