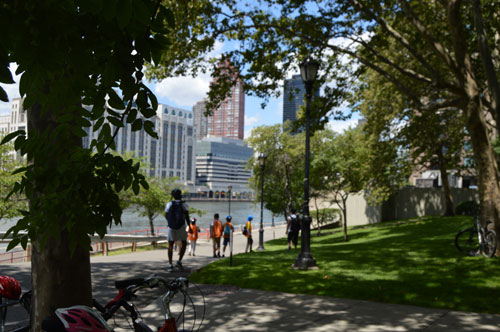 Word of the day: Marginalization
Margin = edge, border (like the margin of a piece of lined writing paper)
Intro Lesson:
Today's ride was to Roosevelt Island! The word of the day was "marginalization." Marginalize, in a social context, means "to treat a person, group, or idea as unimportant or secondary." This was the word of the day because New York City has a history of confining marginalized populations on its islands – such as Roosevelt Island, Randall's/Wards Island, Rikers Island, and North Brother Island. Roosevelt Island had many hospitals, prisons, and asylums. For example, Roosevelt Island was home to the Smallpox Hospital, which was used to quarantine people with smallpox so that the disease wouldn't spread around the city. Finally, we also learned at Roosevelt Island was named after the 32nd President of the US, Franklin Delano Roosevelt.
Roosevelt Island Ride
Today was our third official "Cyclopedia Bike Ride", and the final destination was Roosevelt Island!
Following the intro lesson at the Beacon School, our riders, Clarence, Noor, Samyra, and Steven, saddled up and took off with their coleaders down 96th street to the East River. It was from there that we rode alongside the river, and then crossed over the Ward's Island Pedestrian bridge to Randall's Island. We took a quick pitstop to refill our water bottles and indulge in the breezy, beautiful summer day. From there, we travelled north alongside Ward's Island until we reached Central Road. We then took Central Road all the way down to the Robert F. Kennedy Bridge and rode our bikes over the bridge into Queens.
Once we made it to Queens, Alberto lead the group to our lunch spot: the Socrates Sculpture Park. On the way there, we made another stop in a little playground area with sprinklers. To relax and cool themselves off, Steven, Akeem, and Clarence ran through the sprinklers. It was here that the riders were also encouraged to refill their water bottles, Emera assuring them that the water from the sprinklers were most certainly NYC tap water, arguably some of the cleanest drinking water in the world. After leaving the playground, we followed a bike lane alongside Vernon Blvd to the Sculpture Park.
The park was filled with intricate metal creations, picturesque garden bushes, and a giant wooden piano filled with honey bees forming honey combs. The group set their bikes down and started chowing down on their lunches. Noor sat in a chair positioned right in front of the East River and began drawing. Steven, Clarence, Emera, Celeste, and Akeem all partook in a few friendly games of Ninja, where Akeem, Clarence, and Emera came out with a win each. Samyra and Alberto sat down on a nearby bench and talked. All of this coupled with the perfect weather made lunch time ten times better.
After lunch, we continued down Vernon Boulevard to the Roosevelt Island bridge, and crossed over into Roosevelt Island. On our exploration of the island, we encountered the famous abandoned smallpox hospital, the island's lighthouse, and the Franklin D Roosevelt Four Freedoms Park. On top of that, the riders searched, and found, three geocaches placed around the island. Steven, Noor, and Clarence were also entertained by the ability to catch Pokemon using the augmented reality application "Pokemon Go".
To conclude the ride, we rode back out the same way we came (across the Roosevelt Island Bridge), and followed the edge of Queens down to the Queensboro Bridge, which we then crossed over back to Manhattan. We travelled up 1st Avenue from 60th street to 96th street, and then turned onto 3rd Avenue, returning back to the Beacon School. Overall, today's ride was an amazing experience, not only for the kids, but also for their co-leaders, and we can't wait for our next adventure together!
Participants
Noor
Clarence
Steven
Samyra
Coleaders
Alberto Rivero, Cappy Collins, Celeste Matsui, JiaMei Huang, Akeem Williams, Emera de los Santos
Ride Statistics
Miles biked: 8.39
Program time (hours):
Ride time (hours):
Calories burned*:
Water Quality Monitoring Results
pH :
Nitrate :
Nitrite:
Hardness:
Chlorine:
Pesticides:
Lead:
E.Coli:
*http://www.mapmywalk.com/improve/calorie_calculator/
Estimates based on 100lbs, 5′ 2″ ht, 13 yo, average between male and female.