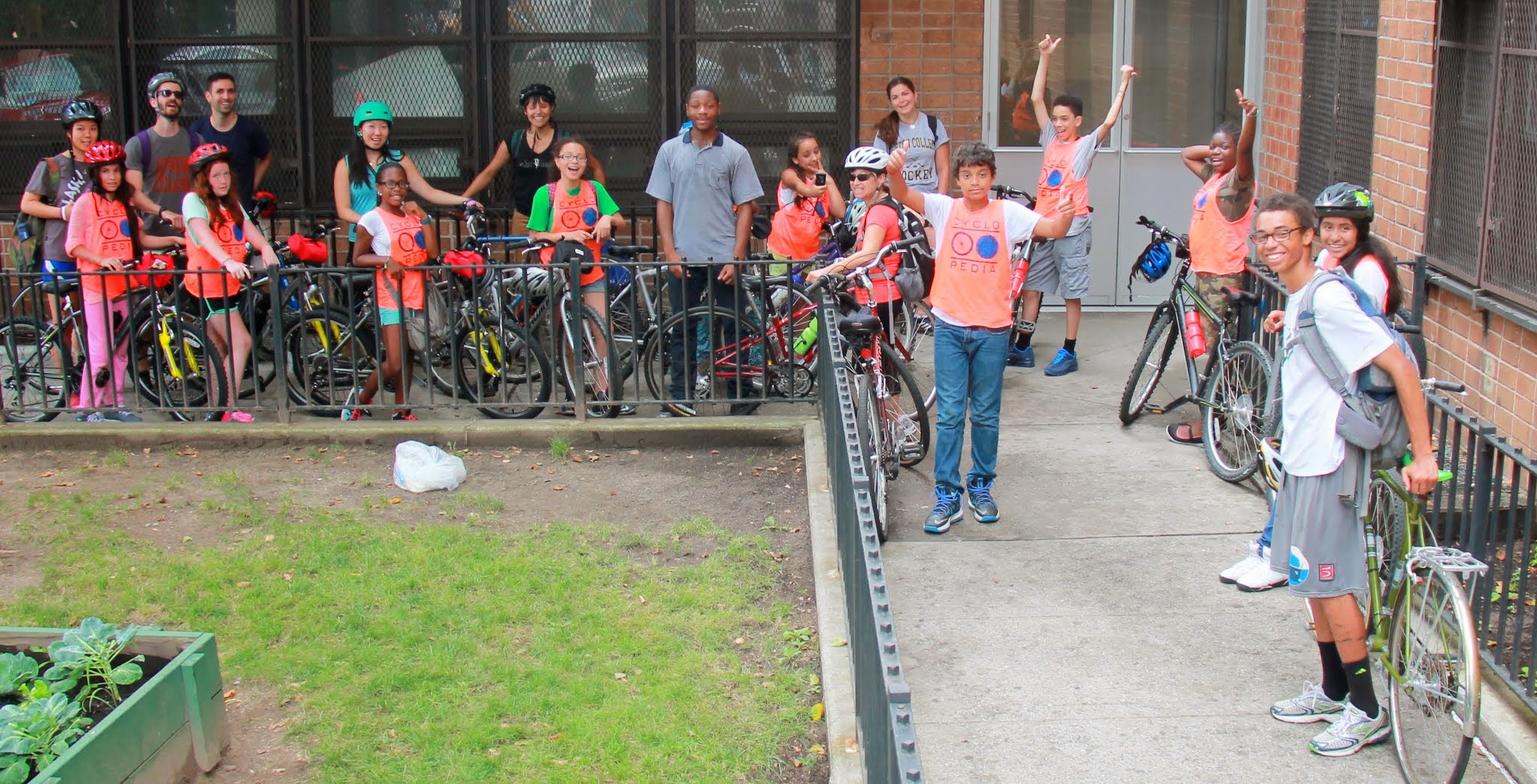 Intro Lesson:
We started out the day with some geography talk. The bikers took turns labeling a map of NYC with compass directions and the boroughs. We were super anxious to finally get out on the road. Today, we explored more about just how fun and useful bikes are. We discussed how biking, like walking, is a personal experience, but it gets you farther than walking could–like a car! The best of both worlds! In fact, Kayelah guessed correctly that if a gallon of gas (which takes a car about 25 miles)was converted into food energy, a biker could go for 1,000 miles! So efficient!
Word of the Day: bicycle
(from Greek bi = two + kýklos = wheel)
East River:
Today marked the first official day of Cyclopedia 2014! Ten Jump Streeters and a big group of volunteer leaders were eager to go for a ride!
After the lesson, we walked our bikes from MS 114 to the East River Esplanade, and we were on our way! Safely in single-file, we followed our fearless captain, Cappy, north towards the Triborough Bridge. Our first stop was at the CVII Pier. There, we reviewed our compass directions, and Sebastian even saw our mascot–the cormorant! Cappy taught us that the cormorant is a water bird that tends to peep its snakey head out of the water while its swimming. Cappy also told us about how Ward's and Randlall's Island used to be one island, and that the fastest man on Earth broke the record at Icahn Stadium directly across the river from us! Also across the river, Princess pointed out the horse stable. Each biker was given a camera and had a great time capturing some beautiful shots along the way.
We took our second break at the northernmost point of the ride. We drank some water and ate baby carrots to stay hydrated, energized, and healthy! Refreshed and ready to bike again, we headed south towards the Queensboro Bridge.
After making a quick stop by a dog park to refill our bottles and watching the puppies play, we headed back to the Stanley Isaac Neighborhood Center…but not before we got our Hill Master Badges! It took a lot of power to get up a very steep incline, but almost everyone pedaled up the whole way. Congrats! Of course, the speedy ride down the hill was the funnest part!
We walked our bikes to the Stanley Isaac Neighborhood Center where the Jump Streeters uploaded their photos and wrote about their day.
Overall, the Jump Streeters should be extremely proud of themselves! They were determined and never gave up on the ride. Riders who may have had trouble at first were pedaling up the hill like old pros! Everyone followed safety protocol very well, including the arm signals which can be difficult to remember. We had a great first ride!
Participants (Click to view journal):
Daniella Abreu
Sebastian Betancourt
Kayelah Brown
Mitzy Chavez
Princess Delgado
McKenna Guerin
Steven Henriquez
Saije Ferrer
Kayla Florian
Cay'la-Monee Watts
This trip was on July 15, 2014
Programming time: 5 hours
Ride time: 3 hours 0 minutes
Ride Distance: 7.23 miles
Walk Distance: 0.47 miles
Calories Burned: 530
Co-Leaders: Alex, Emily Bai, Cappy Collins, Lara Crystal-Ornelas, Roni Kobrosly, Janet Lee, Elyse Meltzer, Dani Niderman, Rob Pecchia, Juleon Robinson, Abi Rosenberger, Itai Sengre and Jess Wygoda