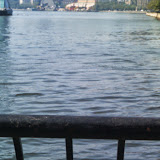 Intro Lesson:
What use is a bicycle? Today we discussed the differences between riding a bicycle, walking and driving. The kids noted that when they ride in a car, the things they notice most are what's inside of the car-like driving around in a bubble. When we walk, we see a lot more of our surroundings, but we go much slower than when we drive. Biking is a happy medium, you are able to go much faster than walking, but you also are more engaged with your environment
We learned that a bicycle is three times more efficient than walking, so riding a bike gives us the power of three people walking! We also learned that a gallon of gas takes a car about 25 miles, but that same gallon of gas when converted into food energy would take a cyclist 1000 miles!
Word of the Day: bicycle
(from Greek bi = two + kýklos = wheel)
East River:
Today the Ruff Ryders headed out to take on the East River! They knew that they had a tough act to follow after the Speed Dusters' successful first ride, and they did awesome!
It was an all-boys crew of cyclists (except for Emma, Jenne, and Meghan) that headed out today after Emma and Jenne went over the lesson. We had some eager participants, and everyone volunteered answers when asked what they saw when walking, biking, and riding in a car.
The Ruff Ryders had a hot day for their first ride! Today was a scorcher in the 100's! The boys changed into their pennies and we headed off. Two new riders joined us today, and so Emma, Sebastian, and Ethan sprinted ahead of the group to do a quick time trial before meeting back at Pier CVII to meet up with the rest of the crew. The time trial went great and both boys posted a speedy mile time with only a slight mishap as Sebastian toppled over in an attempt to avoid pedestrians blocking the path. However, he got up and kept pedaling to the finish! Good job Sebastian!
Back at Pier CVII the boys received their cameras and began taking some pictures as they sipped on water. Estuardo's goal was to document "life itself" a lofty goal for our 3-hour trip.
On we moved until we reached the bottom of the Triborough bridge, where Cappy tossed oranges around for the boys to catch and eat! We took some more pictures of our mascot—the Cormorant. And stayed in the shade to avoid the scorching heat.
Since we had reached the northern most point of our ride, there was only one direction to head… SOUTH! So South we went. After climbing our first hill of the day we were on the East River Esplanade, and we saw Gracie's mansion, the historical home for the Mayor of New York City. Justice said he "wouldn't mind living there."
We continued on the Esplanade until we reached the dreaded staircase. The boys placed their bikes on the ramp and we steadily and safely made it to the bottom where we rode all the way to the southern most point of our trip. The Ruff Ryders took one look at the big hill in ahead of us and said… "Are we going to ride up that hill? COOL!" They powered to the top where we took a break and ate some granola bars before heading back to the Stanley Isaacs Center to document our extremely successful ride!
I want to give the Ruff Ryders a lot of credit for staying upbeat and positive even though we had a super sweaty ride! They were really "on fire!" Can't wait for next week when we tackle the Queensboro Bridge to check out some great artwork at 5 Points!
After the Ruff Ryders' first ride, they have 1367.5 points! Great job!
This trip was on July 19, 2013
Programming time: 4 hours
Ride time: 2 hours, 40 minutes
Ride Distance: 7.1 Miles
Walk Distance: 1.1 Miles
Calories Burned: About 547 Calories
Participants:
Leaders: Cappy Collins, Justin Downes, Torin Barnes, Emma Bick, Jenne Ingrassia, Meghan Rowe