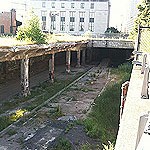 Intro lesson:  Subterranean – things underground and things hidden
The unfortunate story of the Rochester Subway (1927-1956) is detailed here.  Another great resource with wonderful photos and continual wiki-style updates is found here.
We loosely followed a stretch of the former subway route from Monroe Ave./Culver Rd. along I-490 through downtown and out to the southeastern tunnel entrance.
Other Points of Interest: Cobbs Hill Reservoir
This trip was on July 2, 2011
Trip distance:  10.2 miles
Programming Time: 4 hours
Participants: Quinton Bedell, Robert "Nick" Heard, Momoh Kamara, Keyon McClary, Trevon Oliver, Johnathan Shellman, Malik Sturgis, Damien Grant, Jazz Griffin
Leaders: Shawn Brown, Marc Lavender, Daniel