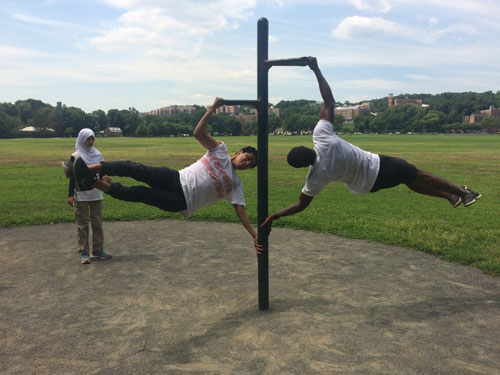 Word of the day: Museum 
A building in which objects of historical, scientific, artistic, or cultural interest are stored and exhibited.
Intro Lesson:
Today's ride was to Van Cortlandt Park! The park is named after Stephanus Van Cortlandt, the first native-born mayor of New York City. Before the ride, we had a lesson and the riders learned the word of the day, "museum." Museum was the word of the day because the Van Cortlandt House Museum, located in the park, is the oldest building in the Bronx! The museum is a mansion that was built for the Van Cortlandt family. It was also used during the Revolutionary War by Marquis de Lafayette, Jean-Baptise Rochambeau, and George Washington. The riders remembered that the Morris-Jamel Mansion, which we visited last week during the High Bridge ride, was also used by Washington during the war.
We also learned that Van Cortlandt Park is the 3rd biggest park in New York City, after Pelham Bay Park in the Bronx and Greenbelt Park in Staten Island. It is also home to the city's largest freshwater lake. The Bronx River, which we visited a few weeks ago, is the only freshwater river in the city. After learning some fun facts about our ride's destination, the riders and co-leaders were excited to start riding to the Bronx!
Van Cortlandt Park Ride:
Participants
Noor
Clarence
Ilias
Coleaders
Alberto Rivero, Cappy Collins, Akeem Williams, Lauren Lee, JiaMei Huang, Emera de los Santos, Celeste Matsui
Ride Statistics
Miles biked: 20.2
Program time (hours): 7 hours
Ride time (hours): 4 hours
Calories burned*: 597
Water Quality Monitoring Results (Van Cortlandt Park Fountain Water)
Nitrate: 0
Nitrite: 0
pH: 6.5
Hardness: 50
Chlorine: 0
Lead: Negative
Pesticides: Negative
Bacteria: Negative
*http://www.mapmywalk.com/improve/calorie_calculator/
Estimates based on 100lbs, 5′ 2″ ht, 13 yo, average between male and female.